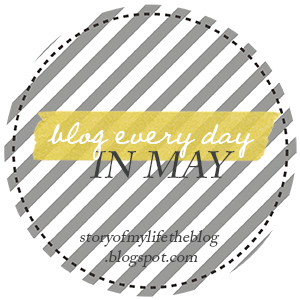 I've been putting a lot of thought into my writing career lately. I was so full of steam when I first decided to leave my job and write full-time; now, I struggle to find the words. I think that the internet is overstimulating sometimes and I just get lost in my online travels. Writing online is a tricky, fickle medium. My head feels full and I feel tired. Between that and general life stress, I find myself wondering where the hours have gone each day and I always vow to try again tomorrow. Rinse. Repeat. I'm left with so many blank pages and such a lack of fulfillment. So ...
Thanks to my blog friend, Yelena of
The twenty-something
, I now have a mission: to write every single day in May! This challenge comes to us from Jenni over at
Story of My Life
. She's more or less in the same boat as I am, needing to get back to her writing roots. By using a writing prompt each day, we will write personal posts that are a little self indulgent and completely authentic.
Feel free to join us this month! If you do, leave a comment below so we can check out your posts :)