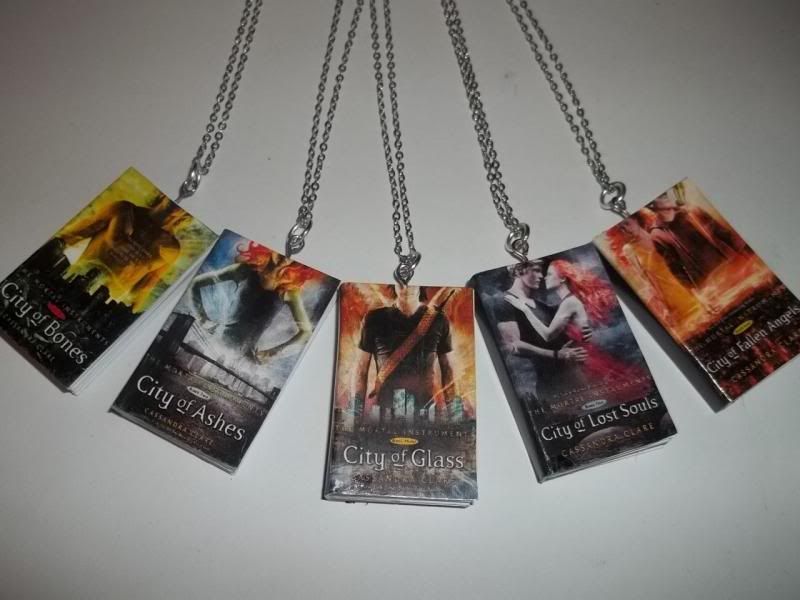 My amazing friend (and girlfriend to my boyfriend's brother), Erin, is always giving me awesome book suggestions. She's one of my most active Goodreads buddies. We seem to gush over our latest reads a couple times a year at family get-togethers, and once sufficiently sauced from glasses of wine and her innovative Jell-o shots (that's for another post), she tends to send me home with stacks of books to try. In fact, I have a small library of lent books that I need to return to her at some point ;)
After mentioning it a few times, she finally sold me on trying The Mortal Instruments series by Cassandra Clare. We love the YA genre, and she assured me that this was a new take on the supernatural themes that we so love. I began the first book,
City of Bones
, and was a little iffy on the writing style. I instantly loved the story, though! As I read more, I began falling in love with the characters and even came to appreciate the writing style. By the end of the book, I found myself shocked. There was twist, and I didn't see it coming! It's so rare for me to be duped by a storyline, so I absolutely had to see what happened next.
I started
City of Ashes
the very next day and loved it even more than the first book! I never think that the second book in a series is better than the first, and again it surprised me with a twist. Ms. Clare was on a roll!
If you're unfamiliar with Cassandra Clare's work, you should know that The Mortal Instruments has multiple spinoff series and companion trilogies. Her world of Shadowhunters has a very rich history to keep us readers busy and happy for months on end if we so choose. If you love TMI, you'll want to add these to your book collection:
The Dark Artifices Trilogy (coming in 2015)
(and if you want to nerd out with me, she's teaming up with Holly Black, co-writer of The Spiderwick Chronicles, for a new series (Magisterium Series) set to debut in 2014!)
Long story short, I have a new obsession.